Who is QuickShipper for?
QuickShipper is a SaaS platform that assists businesses in managing their deliveries of the orders from various channels more efficiently.
Business With Own Fleet
If you do have your own fleet, QuickShipper provides you with all the tools necessary for daily operations.
Branded communication with the customers
Order grouping & route planning
Courier Salary customized Scheme
Business Without Fleet
If you don't have your own fleet yet, we offer diverse delivery options from 3rd party courier companies integrated in QuickShipper.
Activated delivery companies upon registration
Real time pricing
Customer support
What's In It For You
QuickShipper is a software that helps businesses boost their fleet productivity and cost efficiency by:
Route Planning
Taking into consideration starting and ending locations of the ongoing orders, QuickShipper lays out the most optimal routes to deliver them.
Order Batching
QuickShipper recognizes orders with neighboring starting and ending locations and groups them for the couriers to maximize their productivity.
Automated Dispatching
With QuickShipper you can either assign orders to couriers manually, or use auto dispatching and the software will delegate the tasks itself.
Transparent Communication
QuickShipper helps you delight your customers with transparent information about their orders from store to door.
Bussines Inteligence
QuickShipper provides you with the detailed analytics about each order. Our software helps you optimize your orders, customers and costs in order for you to grow your business.
QuickShipper Hub
If you don't have your own fleet or need additional couriers for managing the rush hours, QuickShipper offers you a diverse pool of courier providers
Taking Care of All Sides
QuickShipper offers benefits to all sides of the transaction
Business
QuickShipper provides its customers with all the necessary tools for their operations, such as:
Couriers
For businesses who have their own fleet, QuickShipper provides a courier app, which can be used by fleet. Here the couriers:
End Users
QuickShipper ensures that the end users are informed from store to door by sharing order details transparently. We delight the end users by:
How To Use Our Platform
You can manage your orders via QuickShipper by various methods: manual registration, API integrations or plug-in installations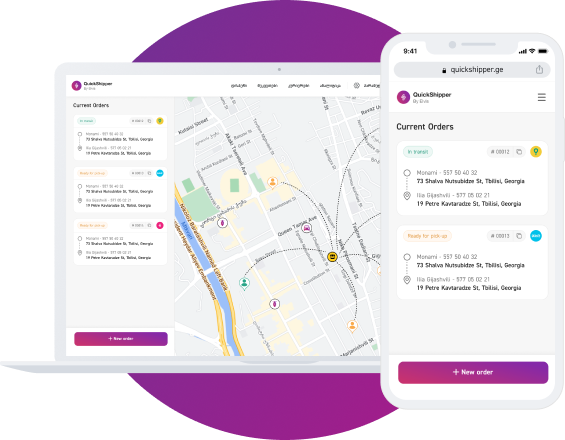 Web Site & App
You can use QuickShipper's services from desktop or smartphone.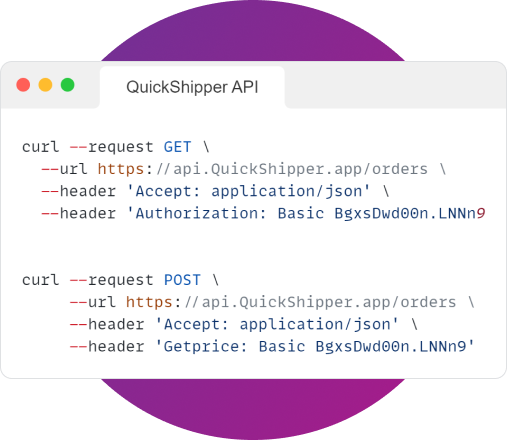 API Integration
If you are generating orders via your website, API integration will automatically mirror the orders in QuickShipper. This way, you won't have to input the details manually.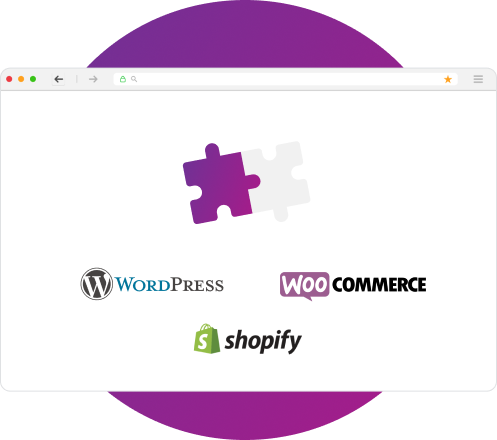 Plug-In Installation
You can install QuickShipper's Plug-In onto the web-sites built on WordPress or WooCommerce. This way, orders generated on the web-sites will be automatically redirected to QuickShipper.
Pay per order only
Enjoy all the benefits without limitations
up to 1000 orders per month
from 1000 to 3000 orders per month
over 3000 orders per month
All Packages include
Courier app for Android and iOS
Order Batching
External Couriers
Automatic Dispatching
Transparent Communication
Thorough Analytics
Customer Support
Register now
Frequently asked questions
Everything you need to know about the product and billing.
Does QuickShipper have couriers?
QuickShipper does not have own couriers. QuickShipper is a platform that helps businesses manage their own couriers, or choose drivers from external companies when needed.
Can I add my own couriers to QuickShipper?
Yes, you can register you own fleet under your brand name and assign orders to them. They can see their tasks in the QuickShipper courier app.
How do I set up drivers?
In order to register your own fleet, you need to go to your dashboard and click on the button "couriers" where you will see an option "add courier". By clicking on this button, you will be asked to fill out the information about the courier, after which he/she will be able to activate an account in QSHPR courier app.
How do I add orders?
On the upper right side of the task bar in your dashboard, click on the button "new order" and fill in all the necessary information about the pick up and drop off locations.
What types of delivery services can I get through your platform when choosing external delivery companies?
The following delivery services are currently available in the dashboard:
express delivery
same day & next day delivery
intercity delivery

Still have questions?
Can't find the answer you're looking for? Please chat to our friendly team.